MALE NPT THREADS REQUIRE WHITE OR YELLOW PTFE (TEFLON) PLUMBERS TAPE BEFORE ASSEMBLY. YOU WILL GALL (BOND) THE THREADS WITHOUT IT.
COMPRESSION Caps do not require teflon tape.

The diptube is designed for a typical US sanke keg.
Kit comes with - 1 Compression adapter and stainless steel pickup tube.
The compression adapter contains 2 stainless steel rings (ferrules),
We also send 1 - Delrin (FOOD GRADE PLASTIC) replacement compression ring, (older kits shipped with 2 of 1/4" NPT sized silicone o-rings)

A center style pickup tube is pictured below with parts in the correct install order.
Two large wrenches will be required to fully compress the larger ring onto the tube. This is permenent but you can still take the tube apart to clean.
LARGE MALE THREAD ON LEFT SHOULD HAVE TEFLON TAPE APPLIED BEFORE INSTALLATION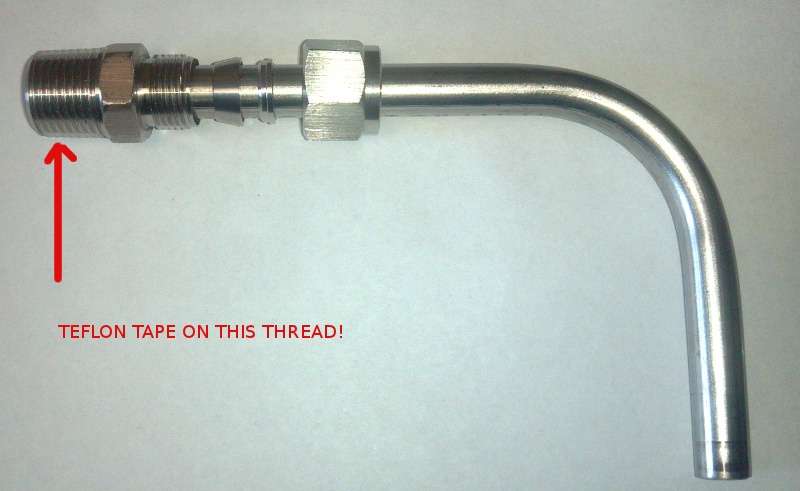 For a non permanent install you would REPLACE THE STAINLESS Compression ferrule rings with the included white delrin plastic compression ring:
HAND TIGHTEN THE COMPRESSION NUT UNTIL THE TUBE WILL NOT MOVE. A BIT MORE PRESSURE ON THE TUBE WITH TOOLS IF NEEDED.

It can take a 1/4 to 1/2 a turn more to tight it up with a wrench.
DO NOT OVERTIGHTEN!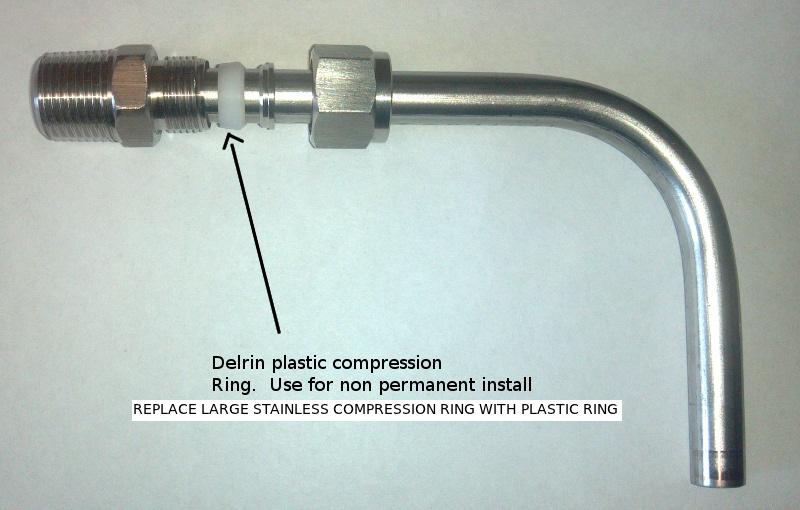 Too install the diptube you will wrap the larger threaded male side with teflon tape and install it into the coupling.
Install the tube into the adapter in the correct order and tighten down the nut.
OLDER STYLE WITH RED O-RINGS INSTALL PICTURED BELOW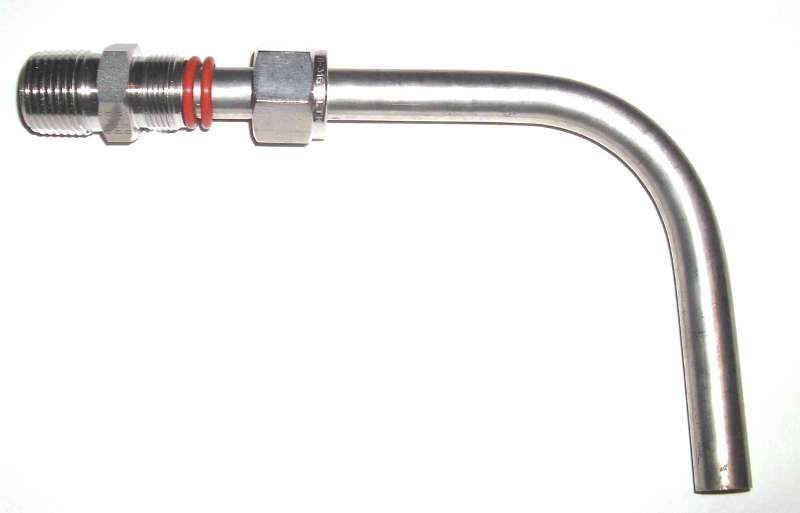 LARGE MALE THREAD ON LEFT SHOULD HAVE TEFLON TAPE APPLIED BEFORE INSTALLATION